At Laxmi Rubber Industries, we have well equipped manufacturing facilities and state-of-the-art machinery such as injection mouldings, hydraulic machines, mixing kneader, etc. We have a competent workforce that comprises of skilled labor. We have all types of equipment for rubber part testing like tensile testing, hardness tester testing, water immersion, banding test, compression test and ash contents.
Raw Materials:-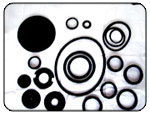 We use high grade raw materials that are used in manufacturing our rubber Moulded parts The raw materials we use are rubber, superior grade metals and specialty chemicals. We procure these quality raw materials from the best manufacturers in the country
Manufacturing Facilities :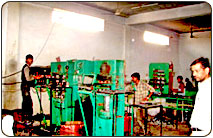 Two-Roll Mixing Mills
Needle Machine
Extruders
Strip Cutter
Electronics Batch Weighting System
Hand moulding Presses
Heavy Duty Hydraulic Machine 1meter * 1MTR
Our Strengths :
Valuable industrial experience spanning fifteen years and a robust infrastructure enable us in designing and manufacturing durable rubber auto parts as per client specifications.
Work Team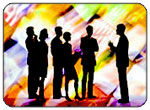 Our work team is our organizational backbone that comprises of a skilled and qualified team of engineers, technicians and technocrats who are fueled by the ambition to excel in their field of activity and offer customized rubber components and Rubber Rings.