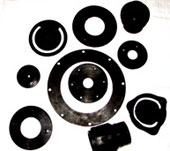 Established in 2004, we are an ISO 9001:2000 certified organization engaged in designing and manufacturing , Sprinkler Irrigation System Rubber Rings, Rubber Gaskets, Rubber Rings, o-Ring. We have a rich industrial expertise spanning almost 10 years that enables us in understanding the client requirements and develop customized products for them. Company is headed by Efficient and Professional Director Mr.Suresh Narayan Gupta & Mr.Ashok Sharma who have Technical & Professional Expertise In this Field.

We have catered to defense sector as an approved manufacturer and supplier of several types of natural rubber and synthetic rubber parts and have had the honor of serving various ordinance factories. We endeavor to utilize our expertise to continually serve our clients with world-class rubberized auto parts.
Work Team :- Our work team is our organizational backbone that comprises of a skilled and qualified team of engineers, technicians and technocrats who are fueled by the ambition to excel in their field of activity and offer customized rubber auto components.
SUPERIOR MATERIALS :- We understand that our reputation is only as good as the reputation of the materials that go into our products. That's why our products are used in esteemed organisations. And if a unique application requires a specially formulated material, our technical staff will assist you in developing a compound to your exacting specifications that 'll complete your indispensable needs..
ON TIME DELIVERY:- Chances are that you won't find anybody who will get what you need, when you need it. What that means to you is Same Day and Just In Time deliveries.
VALUE ADDED PRICING:- While product quality is second to none, you'll find our pricing very competitive. What's more, you won't have to order more than you need, since we maintain a low minimum order policy