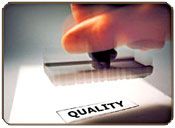 The Company is committed to manufacture & supply products to meet total customer satisfaction by ensuring consistent high quality standards, Timely deliveries & continual improvement of the system .Company's main objective is to avail best quality product at reasonable prices to their customer
Quality Control Laboratory : -

Our plant is equipped with complete testing facilities to check by skilled staff and they are motivated and trained to Do it Right at Thirst Time focus on Customer's Satisfaction.
Equipment for Physical Testing

Library with Technical Literature, Aston , BS & IS Standards.

Used to Verify Curing Character's and Timing by Thermo Couple and Timers
In order to ensure total customer satisfaction, we have built-up a solid infrastructure and techno-commercial network in India. The company has a team of highly qualified and experienced supervisory persons who check and assure quality in each stage of production, as also check the final product before it is dispatched from the factory premises. To achieve the objectives of quality policy, company plans to implement & achieve total quality management. Quality checks are taken care by company under the guidance and expertise of certified quality management consultants. It is our continuous effort to win the trust and confidence of the customers by providing them with premium quality products at affordable prices. It is our continuous efforts to go beyond norms and limits set by standards and create our own standards to achieve excellence.